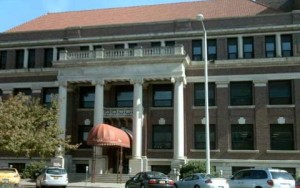 During the week of July 16-20, the Nebraska Repertory Theatre will hold performances of two shows from its 2013 summer season.
Thursday, July 18 and Friday, July 19, 7:30 p.m.: Mrs. Mannerly, by Jeffrey Hatcher, is "a two-person comedy in which the ten-year-old Jeffrey takes an etiquette class from Mrs. Mannerly in 1967 Steubenville, OH."
Saturday, July 20, 7:30 p.m.: Emma, by Jon Jory, is "a stylish adaptation" of Jane Austen's beloved novel.
Tickets are available online, at the Lied Center Box Office, and at the door.
Lied Center Ticket Office
12th & R Streets
P.O. Box 880157
Lincoln, NE 68588-0157
Phone: 402-472-4747 or 1-800-432-3231 toll free
Lied Center Ticket Office Hours: 11:00 a.m. to 5:30 p.m. Monday through Friday.