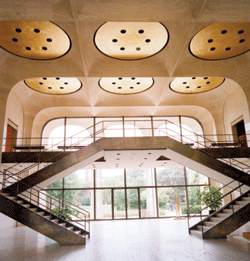 In 2013 the Sheldon Museum of Art celebrates the 50th anniversary of its Philip Johnson building and the 125th anniversary of the Sheldon Art Association, which is the museum's support group.
In commemoration of these anniversaries, exhibitions this year will highlight the strength of the Sheldon's permanent collections. In July, two featured collections will be ongoing.
50 Gifts for 50 Years
late June 2013 - September 22, 2013
(Details to come)
"Look for Beauty": Philip Johnson and Art Museum Design
July 11, 2013 - mid October 2013
This exhibit examines three Johnson-designed museum buildings: Munson-Williams-Proctor Arts Institute, 1960; the Amon Carter Museum of American Art, Fort Worth, Texas, 1961; and the Sheldon Memorial Art Gallery (now the Sheldon Museum of Art), University of Nebraska, Lincoln, 1963. While Johnson (1906-2005) designed several museums and galleries during his long career, these three early projects form a coherent trio to study the arc of Johnson's developing personal aesthetic that wed International Style modernism to historical architectural references.